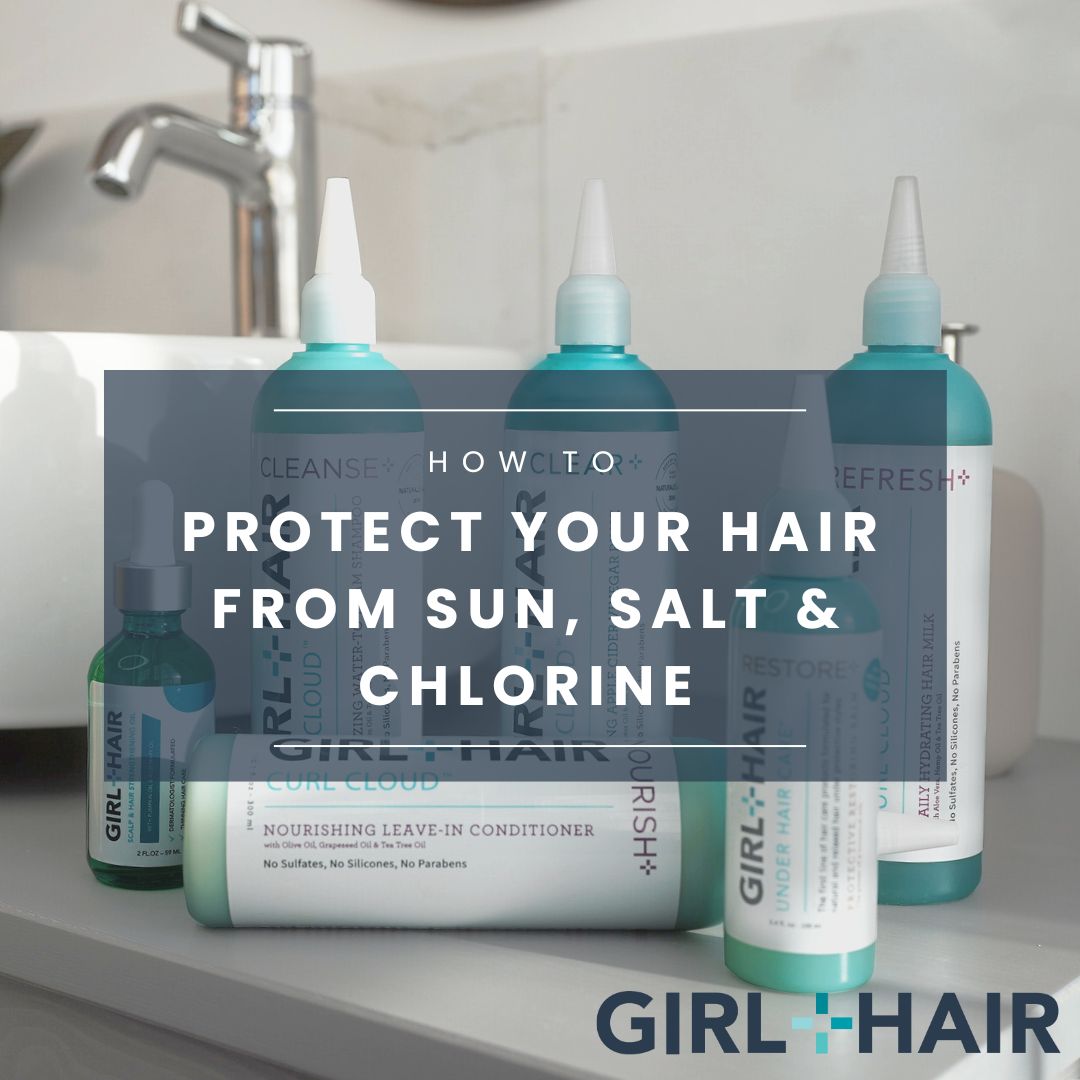 As the summer season approaches, it's important to take extra care of your hair to protect it from the damaging effects of sun, saltwater, and chlorine. These elements can leave your hair dry, brittle, and prone to damage. But don't worry, we've got you covered with some essential summer hair care tips to keep your locks healthy and beautiful throughout the season.
Shield Your Hair from the Sun: Just as you protect your skin with sunscreen, your hair needs sun protection too. Wear a hat, a scarf, or use an umbrella to shield your strands from the harsh UV rays.
Pre-Wet Your Hair: Before diving into the pool or ocean, wet your hair with fresh water. This helps to minimize the absorption of saltwater or chlorine, reducing the damage they can cause.
Rinse After Swimming: After swimming, rinse your hair with clean water to remove any residual salt or chlorine. This step helps to prevent buildup and further damage.
Shampoo after Swimming: Our Curl Cloud collection features the Cleanse shampoo, a gentle and hydrating formula that effectively cleanses your hair without stripping its natural oils. Infused with nourishing ingredients like Shea Butter, Neem oil, and Tea Tree oil, this shampoo replenishes moisture and strengthens your hair, keeping it healthy and vibrant.
Moisturize and Protect with Nourish Leave-In Conditioner: To combat dryness and maintain moisture, the Nourish leave-in conditioner is your go-to product. Enriched with Olive oil, Neem oil and Tea Tree oil, this lightweight conditioner nourishes your hair, reduces frizz, and provides long-lasting hydration. It's the perfect companion for your summer hair care routine.
Refresh and Revitalize with Refresh Hair Milk: Give your hair a boost of hydration and refreshment with our Refresh hair milk. This lightweight and non-greasy formula revitalizes your curls, leaving them soft, defined, and full of life. Simply apply a small amount to damp or dry hair and style as desired for an instant refresh.
Restore and Rejuvenate with Curl Cloud Hair Mask: Treat your hair to a luxurious pampering session with our Curl Cloud hair mask. This deep conditioning treatment is formulated with nourishing ingredients like Olive oil, Pimento oil, and Castor oil to restore moisture, repair damage, and enhance the natural beauty of your curls. Use it once a week for a rejuvenating experience that leaves your hair soft, manageable, and deeply nourished.
Detangle with Care: When combing or detangling your hair, be gentle to avoid breakage. Start from the ends and work your way up using a wide-toothed comb or your fingers.
Minimize Heat Styling: During the summer, give your hair a break from excessive heat-styling tools. Embrace your natural texture or opt for heatless styling methods to minimize damage.
Trim Split Ends: Regular trims are essential to keep your hair healthy. Remove split ends to prevent them from traveling up the hair shaft and causing further damage.
Protect Your Hair with Protective Styles: Consider wearing protective styles, such as braids or twists, to minimize direct exposure to sun, saltwater, and chlorine. These styles can help to preserve your hair's moisture and minimize damage.
Stay Hydrated and Eat a Balanced Diet: Healthy hair starts from within. Stay hydrated by drinking plenty of water and nourish your hair from the inside out by consuming a balanced diet rich in vitamins, minerals, and proteins.
By following these essential summer hair care tips and incorporating our Curl Cloud collection into your routine, you can protect your hair from sun, salt, and chlorine, while keeping it healthy, moisturized, and beautiful all summer long.
Take advantage of our full-size products, including the Cleanse shampoo, Nourish leave-in conditioner, Refresh hair milk, and Curl Cloud hair mask, and indulge in a complete hair care experience that will leave you with stunning, summer-ready locks. Embrace the season with confidence and let your hair shine!