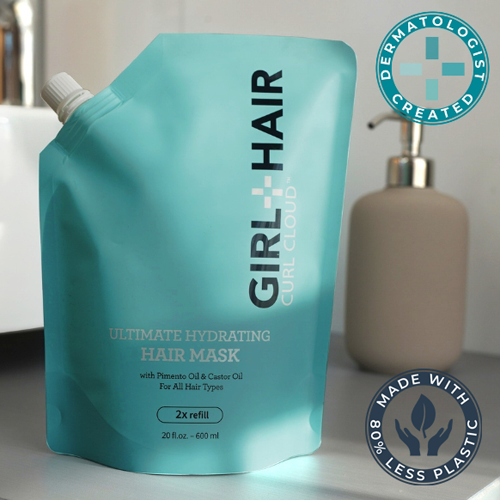 Dry and brittle hair can be a nightmare to deal with. It can result in dullness, dryness, and frizziness, which can be frustrating to manage. Luckily, GIRL+HAIR has come up with a solution - the ultimate hydrating deep conditioning hair mask.
Formulated for Maximum Hydration
What sets the Ultimate Hydrating Hair Mask apart from other hair masks on the market is its ability to provide the scalp and hair with maximum hydration. The key natural ingredients in the product, including Glycerin, Olive oil, Pimento oil, and Castor oil, work together to provide ultimate moisture to the hair. This, in turn, provides definition and strength to the hair shaft.
The Benefits of key natural ingredients: Glycerin, Olive Oil, Pimento Oil, and Castor Oil
Glycerin is a powerful humectant that draws moisture from the air and locks it into the hair, providing ultimate moisture and nourishment. Olive oil is packed with antioxidants and vitamins that help to strengthen hair and protect it from damage. Pimento oil is known for its stimulating and invigorating properties, helping to improve blood circulation to the scalp and promote hair growth. Castor oil is rich in fatty acids and vitamin E, which helps to moisturize hair and prevent breakage.
Why We Say No to Silicones
In addition to the natural ingredients, it's worth noting that our Ultimate Hydrating Hair Mask is silicone-free. Many hair care products on the market contain silicones, which can provide a temporary smoothing effect but ultimately weigh down hair and prevent moisture from penetrating the hair shaft. By avoiding silicones, our hair mask is able to provide deep hydration and nourishment to every strand of hair, leaving it looking and feeling healthier and more vibrant than ever before.
Environmentally-Friendly Packaging
Not only is the Ultimate Hydrating Hair Mask effective, but it also comes in environmentally-friendly packaging. The large 20 fl. oz. refill pouch is made of 80% less plastic than conventional hair mask products. This means that the product lasts more than 2x longer than other hair mask products, making it a cost-effective and eco-friendly choice for consumers.
How to Use the Ultimate Hydrating Hair Mask
To get the most out of the Ultimate Hydrating Hair Mask, it's essential to use it correctly. First, shampoo your hair with GIRL+HAIR's CLEANSE+ water-to-foam shampoo. Then, evenly distribute a generous amount of the hair mask to your damp or towel-dried hair and comb through to ensure thorough distribution from ends to roots. Place a plastic cap over hair and sit under a dryer for 10-15 minutes or leave for 30-60 minutes without heat. Rinse thoroughly with warm water, followed by cool water. Next, apply GIRL+HAIR's NOURISH+ leave-in conditioner and style hair as desired.
Rave Reviews from Satisfied Customers
Don't just take our word for it - customers love the Ultimate Hydrating Hair Mask! One customer, Yasmine S., said: "I Absolutely love, love, love these products. They make the hair so soft & I can instantly see the curl pattern in the hair as soon as I apply it!" or Reese said, "Loved this hair mask! It works wonders for natural hair! As a Licensed Natural hair care specialist this is MUST! I recommend this to all my clients :)".
Conclusion
If you're struggling with dry, dull hair, try GIRL+HAIR's Ultimate Hydrating Hair Mask. With its unique formula and environmentally-friendly packaging, this hair mask is a game-changer for those seeking to revitalize their hair. Say goodbye to frizz and hello to healthy, hydrated hair with GIRL+HAIR.