These Target Takeoff Program Grads Are Paving the Way for Natural Protective Haircare
One of those brands was Girl + Hair, a natural protective haircare line all about empowering women to embrace their natural hair, naturally. It was created by husband-and-wife team Camille and Josef Verovic, and inspired by Camille's own journey to find the right products for her haircare needs...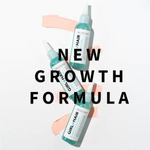 NEW FORMULA = NEW GROWTH Newly formulated with MORE healthy hair growth in mind + MORE of our favorite growth promoting ingredients = Castor...
In this blog post, we'll pinpoint the natural hair health benefits of using apple cider vinegar (ACV) rinse and rice...