These Target Takeoff Program Grads Are Paving the Way for Natural Protective Haircare
One of those brands was Girl + Hair, a natural protective haircare line all about empowering women to embrace their natural hair, naturally. It was created by husband-and-wife team Camille and Josef Verovic, and inspired by Camille's own journey to find the right products for her haircare needs...
Discover the magical benefits of Apple Cider Vinegar for your hair. Learn how to do an ACV hair rinse for...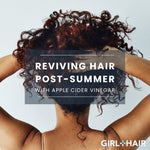 Discover how to rejuvenate your hair after the summer with Apple Cider Vinegar Shampoo, Conditioner, and Hair Oil.