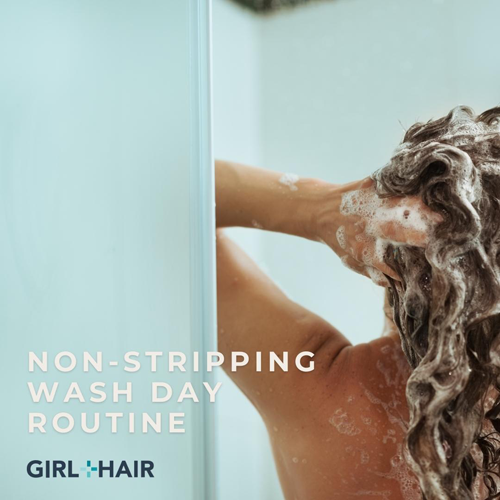 Don't we all appreciate the term "game changer"? Of course, we do! So comes the innovative G+H water-to-foam shampoo concept claiming to be wildly beneficial for all natural hair textures. You read that right! ALL natural hair textures, including our beloved type 4 kinky, coily textures. 
In this blog post, we'll reveal the hype around G+H's "water-to-foam" shampoo concept and why it works effortlessly for curly and coily naturals.

What's the difference between conventional shampoos on the market and the G+H  "water-to-foam" shampoo? 
First and foremost, the G+H CLEANSE+ water-to-foam shampoo has a consistency similar to water. It is designed to spread effortlessly onto the scalp and through curly/coily hair while causing minimal friction and resulting in less tangling than other traditional shampoos on the market. 
In addition, the CLEANSE+ water-to-foam shampoo is designed to create a flash-foam lather instantly resulting in a deeply clean scalp without stripping the hair. 
In short, less finger work, less friction, more instant cleansing! For naturals with thick hair, that's worth celebrating. After all, we could all use that leftover muscle power to open that bottle of wine at the end of wash day. 
Which beneficial ingredients are included in G+H water-to-foam shampoo? 
CLEANSE+ moisturizing water-to-foam shampoo includes Shea Butter for added moisture, Neem Oil to reduce dandruff and condition the scalp, and Tea Tree Oil to prevent build up. Needless to say, this product is a one stop shop for cleansing without stripping hair of moisture. 
As a product line specifically designed to promote ultimate hair and scalp health, GIRL+HAIR Founder and Dermatologist, Camille Vevoric, also made sure our water-to-foam shampoo is sulfate, paraben and alcohol free. Bravo Camille!
Don't we love when a product is for us, by us? 
Lastly, let's talk about the design of the bottle. With an applicator tip and slim bottle design, the CLEANSE+ water-to-foam shampoo is meant to be used with ease on any braided hair styles as well as natural hair of any hair types. The shampoo travels directly from the applicator tip onto the scalp and hair strands and rinses out effortlessly without leaving any residue. No wasted product in hand! 
So many benefits, Ladies (and Gents)! No wonder there's so much hype around the GIRL+HAIR Moisturizing Water-to-Foam Shampoo.
We highly recommend giving it a try.  
Still unsure? Check out the GIRL+HAIR review videos on our Instagram page.