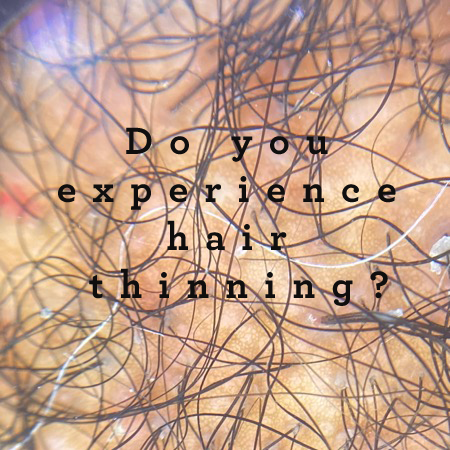 Hair thinning affects so many people and with so many 'magic' or 'miracle' hair growth oils on the market, one could easily become confused when choosing the right product. 

"Androgenic hair loss, which is a chronic type of hair loss that occurs in approximately 70% of men and 40% of women can have a considerable impact on the lives of those men and women", says Dr. Camille Howard-Verovic, Dermatologist and Founder of GIRL+HAIR. It is characterized by a diffuse thinning of the hair typically on the parietal scalp. Hair thinning can be caused by many factors but sex hormones such as dihydrotestosterone (DHT) have been identified as one of the contributing factors in androgenic alopecia. 
However, recent literature suggests Pumpkin Seed oil can promote increased hair density through its role in blocking an enzyme implicated in the DHT pathway. Rosemary oil plays a similar role. In fact, when Pumpkin Seed oil was compared to 5% Minoxidil in women with androgenic alopecia, the Pumpkin Seed oil group had an increase in regrowing hair. 
Why is our Scalp & Hair Strenghtening Oil with Pumpkin Oil and Rosemary Oil the right one?
Our Scalp & Hair Strengthening Oil is formulated with specific scientific studies in mind and includes a Pumpkin Seed oil and Rosemary oil blend to promote hair growth and to prevent hair thinning. Our oil blend is a perfect lightweight oil that can be used on all hair types. It also includes Grapeseed oil, Jojoba oil, Sunflower oil, Spearmint oil, Eucalyptus oil, and Aloe Vera oil to invigorate the scalp and to reduce itchiness.