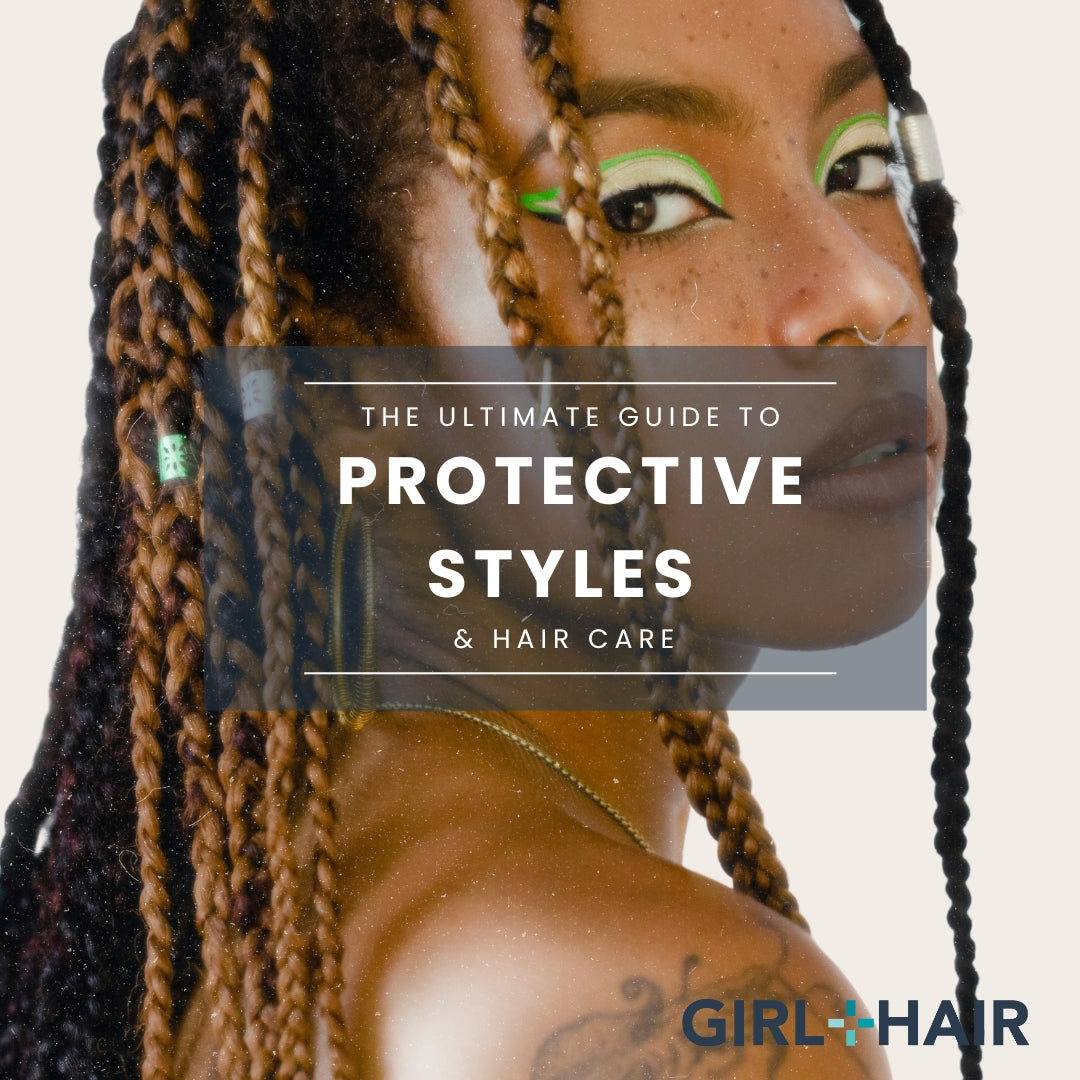 It's protective hairstyle season! Are you looking for the perfect protective hairstyle for your natural hair? Look no further!
If maintained properly, protective hairstyles are not only a great way to achieve longer and healthier hair, but they also shield your strands from damage and maintain optimal hydration. Whether you're a fan of braided styles, faux locs, box braids, or other protective braid styles, these hairstyles are perfect for the summer season and can support your hair growth journey.
In this comprehensive guide, we will explore the benefits of protective styling, the rules to follow, and how to take care of your scalp and hair while rocking these beautiful styles. Plus, we'll introduce you to our GIRL+HAIR UNDER HAIR CARE™ Travel Set, designed specifically to keep your scalp and hair in top shape during your protective styling journey.
A protective style is any hairstyle that keeps your natural hair tucked away, minimizing hair damage and breakage caused by manipulation, heat, and environmental factors. These styles offer numerous benefits, including:

Hair Protection: Protective styles shield your natural hair from tugging, pulling, and breakage, allowing your strands to thrive and grow.
Seasonal Defense: Extreme temperatures during summer and winter can cause hair damage, making protective styles perfect for all seasons.

Length Retention: By keeping your ends protected, these styles help maintain length, reducing the need for frequent trims.
Edge Protection: Protective styles also safeguard your delicate edges from thinning and breakage.

Low Maintenance: These hairstyles require minimal upkeep, saving you time and effort in your daily hair routine.
To make the most of your protective styles, it's important to follow a few key guidelines:

Duration: Typically, protective styles are worn for a few days up to about 6 weeks. Avoid keeping a protective style in for more than two months to prevent dehydration and scalp tension.
Prepping Your Hair: Before installing any protective style, ensure your hair is in optimal health. Trim split ends and thoroughly cleanse and moisturize your hair using our GIRL+HAIR Curl Cloud Collection including our CLEANSE+ Moisturizing Water-To-Foam Shampoo and Deep Conditioning Hair Masque.
Maintaining Your Style: Protect your look by wearing a headscarf or using a silk pillowcase to maintain moisture and prevent frizz. For daily hydration, use our REFRESH+ Hydrating Hair Milk.
Now let's explore ten fabulous protective styles for natural hair:
Cornrows: Versatile and suitable for all hair types and lengths, cornrows involve braiding the hair flat to the scalp in vertical sections. Add extensions to create unique design patterns.
Top Knot: Achieve a quick and stylish protective style by gathering your hair into a high bun. Enhance the look with a side swoop bang or a single braid.
Bantu Knots: Twisting sections of hair around themselves creates tiny knots all over the head. This style can be worn for up to two weeks and can be unraveled for beautiful Bantu knot-out curls.
Box Braids: Popular and versatile, box braids involve sectioning the hair into square shapes and braiding it. Use extensions for added length, color, and variety.
Crochet Braids: Also known as latch hook braids, this method involves adding extensions to cornrowed hair. The style options include twists, Senegalese twists, box braids, faux locs, and more.
Senegalese Twists: Two strands of hair are wrapped around each other to create a twist. Extensions can be added for length and style variation.
Pineapple: A quick and easy protective style, the pineapple gathers all your curls on top of your head. Secure it loosely with a wrap or hair tie.
Wig: Enjoy the versatility and low manipulation of wigs. Opt for human hair wigs for long-lasting quality, and nourish your natural hair with our Rosemary Mint Collection.


Flat Twists: This style retains texture and moisture while offering a cute and protective look. Apply our Pomegranate Honey leave-in conditioner, styling cream, and gel for optimal results.
Faux Locs: Achieve the coveted locs look by braiding or cornrowing your natural hair and wrapping extensions around each braid. Opt for crochet or traditional methods for different effects.
Now that you have an array of protective styles to choose from, it's time to put them into action. Select the style that suits your hair type and experiment until you find your favorites. Don't forget to use our natural hair products from the Under Hair Care Travel Kit For Protective Styles to protect and maintain your hair during the styling process.
Our comprehensive On-the-Go Hair Care Kit is designed to cater to your hair needs wherever you go. It includes our sulfate-free shampoo, nourishing leave-in conditioner, and hydrating hair milk.
Our sulfate-free shampoo cleanses the scalp without stripping natural oils. Infused with tea tree oil, it promotes a healthy scalp, reducing dryness and itchiness.
The nourishing leave-in conditioner keeps your hair hydrated on the move. With natural oils like castor oil and tea tree oil, it softens and strengthens hair while reducing breakage and split ends.
Our hair milk provides long-lasting hydration and protection against damage. Enriched with aloe vera, it promotes healthy hair growth, reduces frizz, and enhances shine.
With an easy-to-use applicator bottle, it's perfect for applying products to your scalp, even with protective styles. The compact and TSA approved size makes it travel-friendly.
Elevate your hair care routine with our On-the-Go Hair Care Kit and enjoy healthy hair wherever you go.
Conclusion
Protective hairstyles are not only fashionable and versatile but also crucial for achieving long, healthy hair. By keeping your ends tucked away, you can protect your natural hair from damage and maintain optimal hydration. Remember to follow the rules of protective styling, prep your hair properly, and use our recommended products to ensure the health and vitality of your scalp and hair.
With our Under Hair Care Travel Kit For Protective Styles and a range of stunning protective styles at your disposal, you're well on your way to achieving your hair goals. So go ahead, try out these styles, and let your curls thrive in their protected and beautiful state!