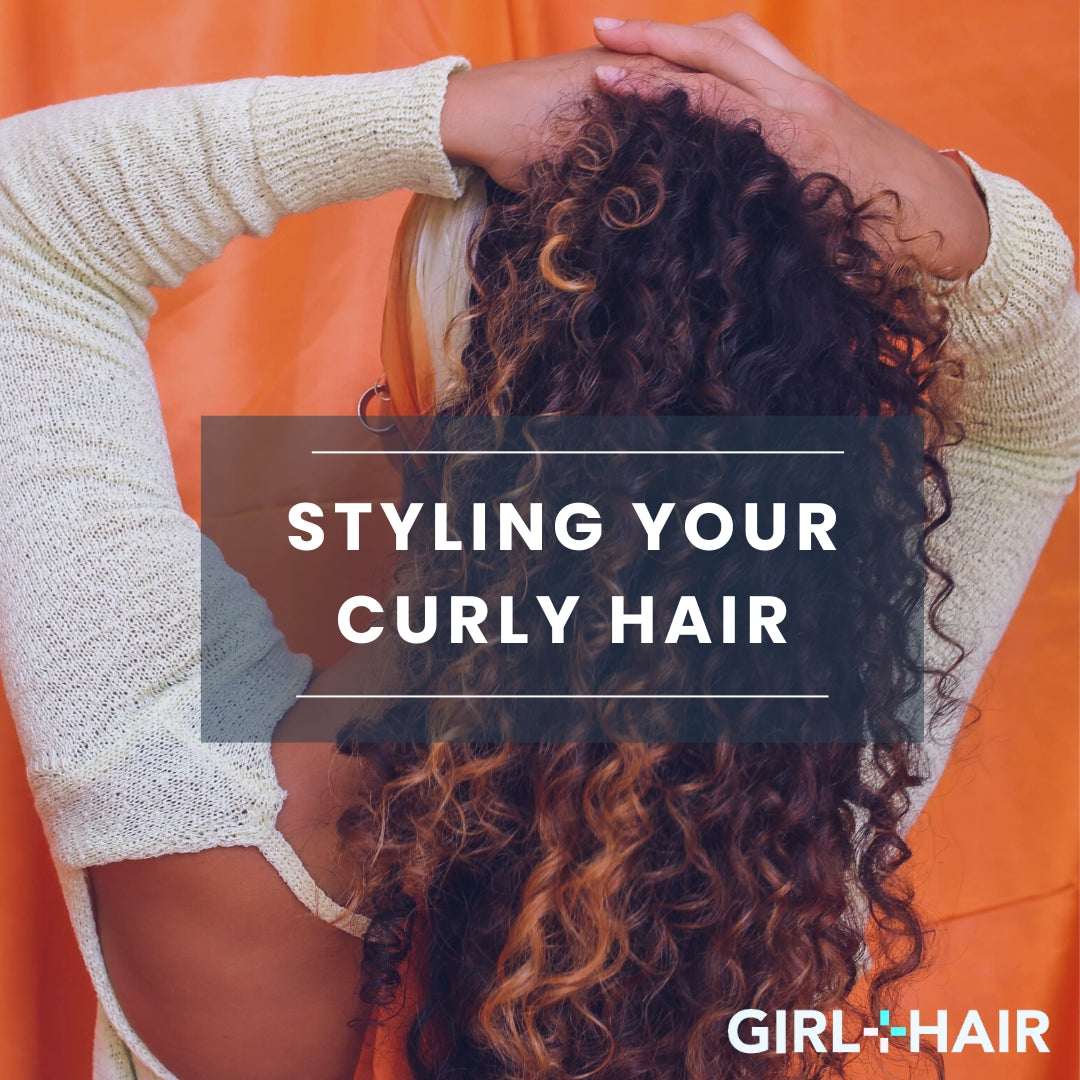 Curly hair is a wonderful canvas for creating a myriad of gorgeous hairstyles that showcase its unique texture and volume. Whether you have loose waves or tight coils, there are countless ways to style your curly locks that will turn heads and make you feel confident and fabulous. In this blog post, we'll explore ten different ways to style your curly hair, from simple everyday looks to more glamorous options for special occasions. Get ready to embrace your natural curls and discover a world of stunning possibilities!

For a quick and easy everyday style, embrace the classic wash-and-go look. After cleansing and conditioning your curls with our GIRL+HAIR Curl Cloud Collection, let your hair air dry or use a diffuser in a low heat setting. This effortless style allows your natural curls to shine and requires minimal effort for a perfect on-the-go look.


Enhance your curl pattern and add definition with a twist-out hairstyle. Apply a leave-in conditioner like our Nourish+ Leave-In Conditioner to damp hair, then divide your hair into sections and twist each section. Allow your twists to dry overnight, and when you unravel them in the morning, you'll have beautifully defined curls with an added touch of volume and bounce.

For a chic and versatile style, try a half-up half-down look. Gather the top half of your curls into a loose bun or ponytail, leaving the rest of your curls cascading freely. This elegant hairstyle works well for both casual and formal occasions, and it keeps your hair out of your face while showcasing your curls' beauty.



Create a trendy and retro-inspired style by pinning back the front section of your hair into a voluminous puff. Use bobby pins or cute hair accessories to secure the puff, allowing the rest of your curls to flow gracefully. This playful style adds a touch of vintage charm to your overall look.

For an ethereal and regal appearance, try a crown braid on your curly hair. Braid two sections on each side of your head, starting from the temples, and wrap them around the back of your head like a crown. Secure with bobby pins or hairpins. This enchanting style is perfect for weddings, parties, or any special occasion where you want to feel like royalty.

Revamp the traditional ponytail by pulling your curls to one side and securing them with a hair tie. The curly side ponytail exudes a fun and flirty vibe, making it an excellent choice for casual outings or a night out with friends.
Create an elegant updo by twisting sections of your curls and pinning them in place. Leave a few curls loose at the front to frame your face. This sophisticated hairstyle is ideal for formal events and weddings, where you want to look effortlessly glamorous.


Add a bold and edgy touch to your look with a curly faux hawk. Gather the center section of your hair and pin it upward to create the illusion of a mohawk. The curly faux hawk is perfect for expressing your individuality and showcasing your adventurous spirit.

If you have longer curls, try a side-swept bang for a flattering and soft look. Sweep a section of your curls to one side, creating face-framing bangs that add dimension and style to your overall appearance.


On days when you want to keep your curls under control while maintaining a boho-chic vibe, tie a colorful headscarf around your head. This effortless accessory instantly elevates your look and protects your curls from environmental factors like wind and humidity.
Conclusion:

With these ten different ways to style your curly hair, you can effortlessly embrace your natural texture and experiment with a wide range of stunning looks. From the classic wash-and-go to glamorous updo's, there's a hairstyle for every occasion and mood. Remember to nourish and protect your curls with our GIRL+HAIR Curl Cloud Collection to keep them healthy, defined, and vibrant. So, unleash your creativity and have fun styling your beautiful curly hair!