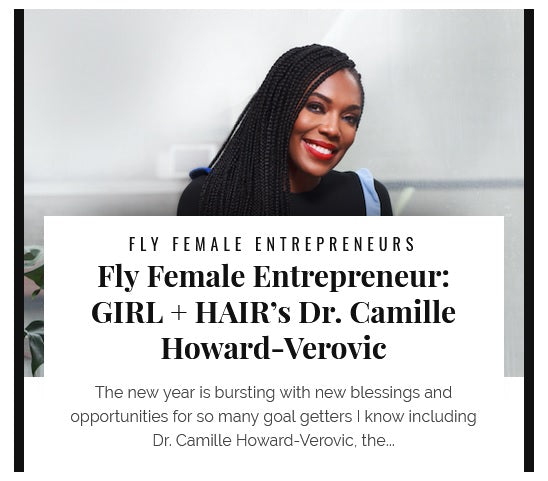 for
The new year is bursting with new blessings and opportunities for so many goal getters I know including Dr. Camille Howard-Verovic, the visionary behind GIRL + HAIR. As the Presenting Sponsor of my recent In Her Shoes Holiday Bazaar, GIRL + HAIR embodies the spirit of collaboration over competition through support of other Black women-owned businesses and as of late 2018, their new partnership with everyone's favorite mass retailer, Target. As part of Target Takeoff, an innovative and immersive program that helps promising brands get to the next level, we'll get to shop the brand that's designed to keep our tresses healthy under protective styles in-store and online! Through mentorship and workshops, the Target Takeoff team helped GIRL +HAIR get ready for mass retail and ultimately, made one of their biggest beauty industry dreams come true.
On the heels of their Target launch, I caught up with Dr. Camille to discuss how she goes for it all,  what a day is like in her shoes, and the brand's new retail partnership. Here's what she had to say:
In Her Shoes: For readers who aren't familiar, tell us a little bit about GIRL + HAIR, and what inspired the launch of the brand:
Dr. Camille: GIRL + HAIR UNDER HAIR CARE™ is a natural haircare line designed for women with natural or relaxed hair who wear protective styles. The idea was born out of a problem I had with finding products with key natural ingredients to cleanse and condition my hair properly while wearing a sew-in weave. When I first did my "big chop," I would visit the store aisles looking for that perfect product— nothing was on the market. Because I was also in a transition of my career between marketing and medicine, the launch of my own brand just felt the right thing to do at the right time.
In Her Shoes: So many women discuss the ability to "have it all." What does having it all mean to you and how do you negotiate the balance between being a wife, mother, entrepreneur, and dermatology resident? What are some of the resources and tools (i.e., apps, etc.) you use to help you manage it all?
Dr. Camille: That's a great question. I think the notion of "having it all" is a state of mind, which is fluent and depends on your stage in life. At this stage, having it all means gratitude. I am so thankful for all of the different hats I'm wearing but I really think I "have it all" because I have my family, friends, and health.  Many women wear many different hats and I think the challenge is to juggle them well.  In the midst of all the juggling, I think organizing your support system and surrounding yourself with the right people is the most important resource. That may be a few girlfriends, a healthy faith-based community, a lifesaving babysitter, or a kick ass therapist.
I schedule everything! To stay organized, my day to day is very driven by my phone. My calendars are all synced and I also have a paper calendar which I check incessantly. I also gave up on some household chores like doing laundry and cleaning every week.
In Her Shoes: What is a day like in your shoes?
Dr. Camille: I usually get up at 6am and together with my husband have breakfast and help get our four year old daughter ready for school. I usually leave at 7am or 8am depending on which clinic or office that day.  I'm a dermatology resident so my day is filled with seeing patients, discussing management and care with my attending and reading and studying. My lunchtime is usually for phone conferences with my husband about GIRL+HAIR and any other things.
I come home around 7pm, we cook dinner or just order in.  We always sit as a family to eat dinner. After we put Mila to bed, I study and catch up with all the GIRL + HAIR things to do.
In Her Shoes: GIRL + HAIR recently served as the presenting sponsor for the In Her Shoes Holiday Bazaar here in New York City. Why do you think it's so important for brands to have presence at consumer events like this one?
Dr. Camille: It is imperative to present in the community and meet and talk to our potential consumer. At the same time, it is inspiring and motivating to educate women and hear about their (hair) stories.  The In Her Shoes Holiday Bazaar was especially important for us as a Black brand because it's an incredible community of women and its support system.

In Her Shoes: Congrats on your brand's recent launch in Target! For independent brands that are looking to get into mass retail, what are your top three tips or pieces of advice?
Dr. Camille: Thank you! We're very excited about that opportunity.
Be authentic to your brand and your customers. It's easy to look at your competitors. Don't do that, find your voice as a brand early and stick to it. It's important to be true to your brand when thinking about marketing and sales.
Slow and steady is best! Take your time to develop your brand, understand your production, pricing, marketing, financial, and distribution strategies. Implement those strategies and be sure to understand your performance metrics.
Develop the right connections – get to know the landscape. For some brands this may be easy, for other brands it may involve a lot of work and networking. Identify your opportunities to get your brand on the radar of key industry people.
In Her Shoes: 2018 was such a pivotal year for your brand, what do you have in store for 2019 that we should know about?
Dr. Camille: 2019 is huge for us! We launched in Target stores on 12/30/18. We hope to continue to grow and expand our distribution within mass retailers. We are currently in Ricky's NY, Harmon Face Values, Sally Beauty and soon Target. I also hope to add some exciting new products to our line.  I'm also approaching the tail end of my dermatology residency which means I may think about other business opportunities!
To follow Camille's beautypreneur journey and learn more about GIRL + HAIR, follow the brand on Instagram (@girlandhair) and visit www.girlandhair.com. If you're ready to grab a few GIRL + HAIR must-haves on Target.com click here now!